Do you have any idea why they feel so ashamed?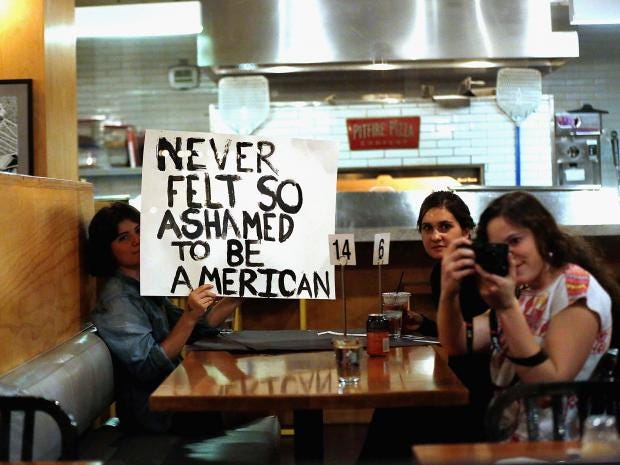 Should I remain in bed, leave my country or fight against the dragon?
( see also the story by Wolfgang Hampel,
' Betty MacDonald: Nothing more to say ' )
Betty MacDonald's sister Alison Bard Burnett
Betty MacDonald's mother Sydney with grandchild Alison Beck

Betty and Don MacDonald in Hollywood
Mrs. Piggle-Wiggle - and Betty MacDonald fan club fans,
great Betty MacDonald fan club news.
As already mentioned we got a great collection of Betty MacDonald's unique Christmas cards.
A Betty MacDonald fan club fan whose grandfather knew Betty MacDonald and her family is going to share three delightful Christmas cards by Betty MacDonald, we've never seen before.
Do you remember in which book Betty MacDonald described her exciting experiences sending some Christmas cards?
Tell us the title please and you can win three copies of Betty MacDonald's new Christmas cards.
We have a special Betty MacDonald fan club Christmas surprise for you.
In which of her books did Betty MacDonald mention a rather sad Christmas and a very happy one?
Tell us the title please and you might be our next Betty MacDonald fan club Christmas winner.
We are working on a DVD 'Christmas with Betty MacDonald and her family'.
You'll be able to see many interviews with Betty MacDonald, her family, many photos and the already mentioned homemade Christmas cards.
You will learn how Betty MacDonald got the idea to create them as a special Christmas gift for family and friends.
The best thing is you can win our new Betty MacDonald fan club DVD 'Christmas with Betty MacDonald and her family'.
Tell us the titles of the books please Betty MacDonald describes Christmas.
Good luck folks!
Deadline: December 31, 2016
In which year did Betty MacDonald create this Christmas card?
If you know the answer you might be our Betty MacDonald fan club parcel winner.
Good luck!
You can celebrate Christmas with Mr. Tigerli.
Very exciting Betty MacDonald fan club news!
Betty MacDonald fan club founder Wolfgang Hampel is going to present life and work of Betty MacDonald in Vita Magica January 2017.
More info will come soon!


Vita Magica December was very successful.
Betty MacDonald fan club founder Wolfgang Hampel invited a very famous author.
The visitors enjoyed Vita Magica very much.
A great event!
Betty MacDonald fan club founder Wolfgang Hampel interviewed Betty MacDonald's daughter Joan MacDonald Keil and her husband Jerry Keil.
This interview will be published for the first time ever.
New
Betty MacDonald documentary
will be very interesting with many interviews never published before.
We adore
Betty MacDonald fan club honor member Mr. Tigerli


Thank you so much for sharing this witty memories with us.
Wolfgang Hampel's literary event Vita Magica is very fascinating because he is going to include Betty MacDonald, other members of the Bard family and Betty MacDonald fan club honor members.
It's simply great to read Wolfgang Hampel's new very well researched stories about Betty MacDonald, Robert Eugene Heskett, Donald Chauncey MacDonald, Darsie Bard, Sydney Bard, Gammy, Alison Bard Burnett, Darsie Beck, Mary Bard Jensen, Clyde Reynolds Jensen, Sydney Cleveland Bard, Mary Alice Bard, Dorothea DeDe Goldsmith, Madge Baldwin, Don Woodfin, Mike Gordon, Ma and Pa Kettle, Nancy and Plum, Mrs. Piggle-Wiggle and others.
Vita Magica was very witty and enjoyable
.
We know the visitors had a great time there.
Congratulations dear Letizia Maninco, Wolfgang Hampel and Friedrich von Hoheneichen!
Linde Lund and many fans from all over the world adore this funny sketch by Wolfgang Hampel very much although our German isn't the best.
I won't ever forget the way Wolfgang Hampel is shouting ' Brexit '.
Don't miss it, please.
It's simply great!
You can hear that Wolfgang Hampel got an outstandig voice.
He presented one of Linde Lund's favourite songs ' Try to remember ' like a professional singer.
Thanks a million!
Betty MacDonald fan club honor member Mr. Tigerli
and our 'Italian Betty MacDonald' - Betty MacDonald fan club honor member author and artist Letizia Mancino belong to the most popular Betty MacDonald fan club teams in our history.
Their many devoted fans are waiting for a new Mr. Tigerli adventure.
Letizia Mancino's magical Betty MacDonald Gallery is a special gift for Betty MacDonald fan club fans from all over the world.
Don't miss Brad Craft's 'More friends', please.
Betty MacDonald's very beautiful Vashon Island is one of my favourites.
I agree with Betty in this very witty Betty MacDonald story
Betty MacDonald: Nothing more to say by Wolfgang Hampel.
I can't imagine to live in a country with him as so-called elected President although there are very good reasons to remain there to fight against these brainless politics.
Security analysts believe state-sponsored hackers penetrated the DNC and the email accounts of Mrs. Clinton's presidential campaign manager, John Podesta, before passing along their contents to WikiLeaks for publication before the Nov. 8 election. President Obama said last week that he has "great confidence" in intelligence reports that links those hacks and others to Russian actors and that their actions were aimed at having Mr. Trump win the White House race.
"This happened at the highest levels of the Russian government," Mr. Obama said last week. "Not much happens in Russia without Vladimir Putin."
Don't miss these very interesting articles below, please.
Rohrabacher is also a surfer and former folk singer who once claimed global warming might be connected to "dinosaur flatulence."
Don't miss the very interesting articles below, please.
I think the future dinosaur flatulence will be the behaviour of 'Pussy' and his very strange government.
Poor World! Poor America!
The most difficult case in Mrs.Piggle-Wiggle's career
Hello 'Pussy', this is Mrs. Piggle-Wiggle.
You took calls from foreign leaders on unsecured phone lines, without consultung the State Department. We have to change your silly behaviour with a new Mrs. Piggle-Wiggle cure. I know you are the most difficult case in my career - but we have to try everything.......................
Betty MacDonald fan club founder Wolfgang Hampel sent his brilliant thoughts.
Thank you so much dear Wolfgang!
Hi Libi, nice to meet you. Can you feel it?
I'll be the most powerful leader in the world.
Betty MacDonald: Nothing more to say
Copyright 2016 by Wolfgang Hampel
All rights reserved
Betty MacDonald was sitting on her egg-shaped cloud and listened to a rather strange guy.
He said to his friends: So sorry to keep you waiting. Very complicated business! Very complicated!
Betty said: Obviously much too complicated for you old toupee!
Besides him ( by the way the First Lady's place ) his 10 year old son was bored to death and listened to this 'exciting' victory speech.
The old man could be his great-grandfather.
The boy was very tired and thought: I don't know what this old guy is talking about. Come on and finish it, please. I'd like to go to bed.
Dear '
great-grandfather' continued and praised the Democratic candidate.
He congratulated her and her family for a very strong campaign although he wanted to put her in jail.
He always called her the most corrupt person ever and repeated it over and over again
in the fashion of a Tibetan prayer wheel.
She is so corrupt. She is so corrupt. Do you know how corrupt she is?
Betty MacDonald couldn't believe it when he said:
She has worked very long and very hard over a long period of time, and we owe her a major debt of gratitude for her service to our country.
Afterwards old toupee praised his parents, wife, children, siblings and friends.
He asked the same question like a parrot all the time:
Where are you? Where are you? Where are you?
I know you are here!
Betty MacDonald answered: No Pussy they are not! They left the country.
They immigrated to Canada because they are very much afraid of the future in the U.S.A. with you as their leader like the majority of all so-called more or less normal citizens.
By the way k
eep your finger far away from the pussies
and the

Red Button

, please.
I'm going to fly with my egg-shaped cloud to Canada within a minute too.
Away - away - there is nothing more to say!
I can understand the reason why Betty MacDonald, Barbara Streisand, other artists and several of my friends want to leave the United States of America.
I totally agree with these comments:
Daniel Mount wrote a great article about Betty MacDonald and her garden.
We hope you'll enjoy it very much.
I adore Mount Rainier and Betty MacDonald's outstanding descriptions
Can you remember in which book you can find it?
If so let us know, please and you might be the next Betty MacDonald fan club contest winner.
I hope we'll be able to read Wolfgang Hampel's new very well researched stories about Betty MacDonald, Robert Eugene Heskett, Donald Chauncey MacDonald, Darsie Bard, Sydney Bard, Gammy, Alison Bard Burnett, Darsie Beck, Mary Bard Jensen, Clyde Reynolds Jensen, Sydney Cleveland Bard, Mary Alice Bard, Dorothea DeDe Goldsmith, Madge Baldwin, Don Woodfin, Mike Gordon, Ma and Pa Kettle, Nancy and Plum, Mrs. Piggle-Wiggle and others - very soon.
It' s such a pleasure to read them.
Let's go to magical Betty MacDonald's Vashon Island.

Betty MacDonald fan club organizer Linde Lund and Betty MacDonald fan club research team share their recent Betty MacDonald fan club research results.

Congratulations! They found the most interesting and important info for Wolfgang Hampel's oustanding Betty MacDonald biography.

I enjoy Bradley Craft's story very much.
Don't miss our Betty MacDonald fan club contests, please.
You can win a never published before Alison Bard Burnett interview by Betty MacDonald fan club founder Wolfgang Hampel.
Good luck!
This CD is a golden treasure because Betty MacDonald's very witty sister Alison Bard Burnett shares unique stories about Betty MacDonald, Mary Bard Jensen, Mrs. Piggle-Wiggle and Nancy and Plum.
Do you have any books by Betty MacDonald and Mary Bard Jensen with funny or interesting dedications?
If so would you be so kind to share them?
Our next Betty MacDonald fan club project is a collection of these unique dedications.
If you share your dedication from your Betty MacDonald - and Mary Bard Jensen collection you might be the winner of our new Betty MacDonald fan club items.
Thank you so much in advance for your support.

Thank you so much for sending us your favourite Betty MacDonald quote.
More info are coming soon.
Wolfgang Hampel's Betty MacDonald and Ma and Pa Kettle biography and Betty MacDonald interviews have fans in 40 countries. I'm one of their many devoted fans.
Many Betty MacDonald - and Wolfgang Hampel fans are very interested in a Wolfgang Hampel CD and DVD with his very funny poems and stories.
We are going to publish new Betty MacDonald essays on Betty MacDonald's gardens and nature in Washington State.
Tell us the names of this mysterious couple please and you can win a very new Betty MacDonald documentary.
Betty MacDonald fan club honor member Mr. Tigerl

i
is beloved all over the World.
We are so happy that our 'Casanova' is back.

Wolfgang Hampel - LinkFang ( German )
Wolfgang Hampel - Academic ( German )
Wolfgang Hampel -
cyclopaedia.net ( German )
Wolfgang Hampel - DBpedia ( English / German )
Wolfgang Hampel - people check ( English )
Wolfgang Hampel - Memim ( English )
Vashon Island - Wikipedia ( German )
Wolfgang Hampel - Monica Sone - Wikipedia ( English )
Wolfgang Hampel - Ma and Pa Kettle - Wikipedia ( English )
Wolfgang Hampel - Ma and Pa Kettle - Wikipedia ( French )
Wolfgang Hampel - Mrs. Piggle-Wiggle - Wikipedia ( English)
Wolfgang Hampel in Florida State University
Betty MacDonald fan club founder Wolfgang Hampel
Betty MacDonald fan club interviews on CD/DVD
Betty MacDonald fan club items
Betty MacDonald fan club items - comments
Betty MacDonald fan club - The Stove and I
Betty MacDonald fan club groups
Betty MacDonald fan club organizer Linde Lund
Betty MacDonald fan club organizer Greta Larson
Betty MacDonald fan club and Heide Rose
Rita Knobel Ulrich - Islam in Germany - a very interesting ZDF ( 2nd German Television ) documentary with English subtitles
On Instagram, Sir Elton John posted a photograph of himself with Michael, writing: "I am in deep shock. I have lost a beloved friend - the kindest, most generous soul and a brilliant artist. My heart goes out to his family and all of his fans."
Obituary: George Michael
George Michael: A life in pictures
How the world reacted
George Michael: Six songs that defined his life
Michael's family announced news of his death in a statement issued through the singer's publicist.
"It is with great sadness that we can confirm our beloved son, brother and friend George passed away peacefully at home over the Christmas period," it said.
"The family would ask that their privacy be respected at this difficult and emotional time. There will be no further comment at this stage."
South Central Ambulance Service were called to Michael's property at 13:42 GMT. Thames Valley Police also attended and Michael was confirmed dead at the scene.
They added: "At this stage the death is being treated as unexplained but not suspicious. A post-mortem will be undertaken in due course. "
A small heart wreath and a rose are among the tributes left outside the front door of Michael's home, a detached property by the River Thames.
Court battle
Michael, who was born Georgios Kyriacos Panayiotou in north London, sold more than 100 million albums throughout a career spanning almost four decades.
He first found fame with schoolfriend Ridgeley in duo Wham! - reaching number one in the UK singles charts on four occasions. One of the band's most enduring songs Last Christmas, is currently number 16 in the UK singles chart.
The song was originally released in 1984 and is the biggest selling single not to reach number one.
It was kept off the chart's top spot by Band Aid's Do They Know It's Christmas, which actually featured Michael.
Solo albums followed, including the multi-million selling Faith in 1987.
The follow-up Listen Without Prejudice Vol. 1 outsold Faith in the UK but led to Michael losing a court case with record label Sony over his frustration at how the album has been marketed.
---
From teen idol to long-term stardom
His talents as a singer, songwriter and music producer made George Michael one of the world's biggest-selling artists.
Blessed with good looks and a fine singing voice, his stage presence made him a favourite on the live concert circuit as he matured from teen idol to long term stardom.
But there were times when his battle with drugs and encounters with the police made lurid headlines that threatened to eclipse his musical talents.
---
As a solo artist, Michael scored a further seven number one singles in the UK with songs including Careless Whisper and Fastlove, collaborated with the likes of Aretha Franklin and Elton John, and won three Brit Awards and two Grammys.
The Grammy organisers said Michael's "extraordinary talent had a profound impact on countless entertainers worldwide, and his creative contributions will live on forever".
Troubled artist
Michael later began facing headlines for reasons other than his music.
After years of refusing to be drawn on speculation about his sexuality, Michael disclosed he was gay in 1998 after being arrested in a public toilet in Beverly Hills, California, for engaging in a lewd act.
The music video for the single that followed, Outside, featured a men's bathroom transformed into a disco and policemen kissing.
In October 2006 he pleaded guilty to driving while unfit through drugs, and in 2008 was cautioned for possession of class A drugs, including crack cocaine.
In September 2010, Michael received an eight-week prison sentence following an incident in which he crashed his Range Rover into a shop in north London. He admitted driving under the influence of drugs and possessing cannabis.
Pop stars from Michael's heyday were joined by contemporary names in paying tribute on Twitter.
ABC's Martin Fry said: "Absolutely devastated to hear of the loss of @GeorgeMichael Truly brilliant talent #sad #sad #sad."
Duran Duran referred to the the so-called curse of 2016 - following the deaths of David Bowie, Prince and Rick Parfitt - posting on their official Twitter account: "2016 - loss of another talented soul. All our love and sympathy to @GeorgeMichael's family."
The band included a picture of Michael with its frontman Simon Le Bon, Sting and Bob Geldof.
Madonna posted a video from 1989 on Twitter and Instagram of herself presenting Michael with an award, and wrote: "Another Great Artist leaves us".
Robbie Williams, whose first solo single was a cover of Michael's song Freedom, wrote: "Oh God no …I love you George …Rest In Peace x".
DJ Tony Blackburn said: "Unbelievable, George Michael has died at the age of 53. RIP.This dreadful year goes on and on. So sad, a real talent."
Boy George wrote: "He was so loved and I hope he knew it because the sadness today is beyond words. Devastating.
"What a beautiful voice he had and his music will live on as a testament to his talent. I can't believe he is gone. I hope the Buddha will hold him in his arms."
In 2011, Michael postponed a series of concerts after being taken to hospital for treatment for pneumonia.
After treatment in a Vienna hospital, he made a tearful appearance outside his London home and said it had been "touch and go" whether he lived.
The experience inspired the single White Light which was his last Top 40 hit in 2012 and which he performed at the closing ceremony of the 2012 Olympics in London.
Earlier this month it was announced that producer and songwriter Naughty Boy was working with Michael on a new album.
Michael had also recently been working on a documentary chronicling his rise to fame with Wham! and made a direct appeal on Twitter to his fans, asking them to send in their own videos and photographs dating from 1988 to 1996.
The documentary film entitled Freedom was originally expected to be released this year but was recently delayed until next March.
---
What are your memories of George Michael? Did you meet him? You can share your experience by emailing
haveyoursay@bbc.co.uk
.
Please include a contact number if you are willing to speak to a BBC journalist. You can also contact us in the following ways:
See more reaction to Michael's death
---
George Michael's UK number one singles
Wake Me Up Before You Go Go (with Wham!) - 1984
Freedom (with Wham!) - 1984
Careless Whisper - 1984
I'm Your Man (with Wham!) - 1985
The Edge of Heaven (with Wham!) - 1986
A Different Corner - 1986
I Knew You Were Waiting For Me (with Aretha Franklin) - 1987
Don't Let the Sun Go Down on Me (with Elton John) - 1991
Five Live EP (with Queen and Lisa Stansfield) - 1993
Jesus To A Child - 1996
Fastlove - 1996
Russian President Vladimir Putin has asked to "restore the framework of bilateral cooperation" with the U.S. in a letter to President-elect Donald Trump — a note the transition team released Friday, the same day the Kremlin leader called American Democrats sore losers.
The letter, written earlier this month, offers Christmas and New Year's wishes. Mr. Putin then suggests that the two nations find a way to get beyond the loggerheads of the past few years.
"I hope that after you assume the position of the President of the United States of America we will be able — by acting in a constructive and pragmatic manner — to take real steps to restore the framework of bilateral cooperation in different areas as well as bring our level of collaboration on the international scene to a qualitatively new level," Mr. Putin said.
Mr. Trump, in a statement, called it "a very nice letter" and said "his thoughts are so correct."
"I hope both sides are able to live up to these thoughts, and we do not have to travel an alternate path," he said.
During the U.S. presidential election campaign, Mr. Putin and Mr. Trump had positive things to say about each other's leadership style.
Democrats and the Obama administration have accused Mr. Putin of meddling in the U.S. election to try to sink Democratic nominee Hillary Clinton, who as secretary of state tried but failed to earn better relations with Russia.
But answering questions Friday from a group of journalists assembled for his annual end-of-year press conference, Mr. Putin said Democrats were wrong to blame "outside factors" for Mrs. Clinton's loss.
Democrats "are losing on all fronts and looking for scapegoats on whom to lay the blame," Mr. Putin told reporters, as translated by the Kremlin.
"I think that this is an affront to their own dignity. It is important to know how to lose gracefully," he said.
Asked specifically to comment on accusations that Russia used state-sponsored hacking to influence results of the election, Mr. Putin denied responsibility before noting that arguments about "who did it" are less important than what the hacked emails showed.
"These days, it is very easy to designate a random country as the source of attack while being in a completely different location," Mr. Putin said of the hackers. "But is this important? I think the most important thing is the information that the hackers revealed to the public," he said.
He also said the resignation of Democratic National Committee Chairwoman Debbie Wasserman-Schultz over the information vindicates its authenticity.
"What is the best proof that the hackers uncovered truthful information? The proof is that after the hackers demonstrated how public opinion had been manipulated within the Democratic Party, against one candidate rather than the other, against candidate [Bernard] Sanders, the Democratic National Committee chairperson resigned. This means she admitted that the hackers revealed the truth," Mr. Putin said.
Security analysts believe state-sponsored hackers penetrated the DNC and the email accounts of Mrs. Clinton's presidential campaign manager, John Podesta, before passing along their contents to WikiLeaks for publication before the Nov. 8 election. President Obama said last week that he has "great confidence" in intelligence reports that links those hacks and others to Russian actors and that their actions were aimed at having Mr. Trump win the White House race.
"This happened at the highest levels of the Russian government," Mr. Obama said last week. "Not much happens in Russia without Vladimir Putin."
A day earlier, CrowdStrike, a security firm hired to examine the DNC breach, said the perpetrators used a specific strain of malware used exclusively for nearly a decade in cyberattacks attributed to Russia, including a previously undisclosed hacking campaign in recent months against the Ukrainian military.
The letter was released and the Moscow news conference was held a day after Mr. Putin and Mr. Trump suggested that they might push to expand their countries' nuclear capabilities.
Donald Trump praises Vladimir Putin for slamming Hillary Clinton
Philip Rucker, The Washington Post
WEST PALM BEACH, Fla. - U.S. President-elect Donald Trump late Friday publicly praised Russian President Vladimir Putin for attacking Trump's former Democratic opponent, Hillary Clinton.
In a striking statement that seems to further align Trump with Putin, the incoming U.S. president tweeted that he agreed with the Russian leader's assessment that Clinton and the Democratic Party generally have not shown "dignity" following widespread losses in the November election.
"So true!" Trump tweeted of Putin's comments, apparently referencing statements the Russian made at his year-end news conference: "Vladimir Putin said today about Hillary and Dems: 'In my opinion, it is humiliating. One must be able to lose with dignity.' So true!"
Trump's expressed admiration of Putin came only hours after he released to the media a warm letter the Russian sent him. The Friday night tweet sparked cries of alarm from former U.S. officials and other Trump critics on social media.
In Putin's letter, dated Dec. 15, the Russian leader wrote that he hopes he and Trump can act "in a constructive and pragmatic manner" following the Jan. 20 inauguration. Trump was pleased with the correspondence, saying in a statement Friday, "A very nice letter from Vladimir Putin; his thoughts are so correct."
Trump has long spoken admiringly of Putin and what he considers the Russian president's strong leadership qualities. Some of Trump's incoming advisers have past connections to Putin and the Russian government, including Rex Tillerson, the secretary of state nominee, and retired Lt. Gen. Michael Flynn, the White House national security adviser designee.
Trump has so far rejected the conclusions of the CIA, FBI and other U.S. intelligence agencies that Russia intervened in the 2016 campaign in part to help Trump secure the White House. The agencies believe Russia is responsible for the hacking of Democratic National Committee emails as well as the private emails of Clinton campaign chairman John Podesta.
Michael McFaul, a former U.S. ambassador to Russia under President Obama, tweeted Friday night that Trump's praise of Putin was "unprecedented": "So now the President-elect and an autocrat in the Kremlin team up to trash an American. Unprecedented. Will Republicans speak up?"
Evan McMullin, a Republican former CIA operative who ran unsuccessfully against Trump as an independent candidate, called Friday night for Republican leaders to condemn Trump's "alliance" with Putin: "must condemn

@

realDonaldTrump

's alliance with Putin, a foreign adversary who is actively undermining our democracy. "
For leaders who lacks the courage to stand up when it's most needed, dismissing an obvious problem is always an attractive option.

— Evan McMullin (@Evan_McMullin) December 24, 2016
Commentary: The United States isn't Russia
If Vladimir Putin gave a damn about American public opinion, he'd encourage Donald Trump to make at least a symbolic gesture to prove he's not the Russian strongman's vassal. So far, there's no sign either party to their oddly one-sided alliance feels the need.
Trump's every significant appointment and foreign policy pronouncement has been exactly as the Russians would have it. "The man has very strong control over his country," Trump has said. "He's been a leader far more than our president has been a leader." So what if Putin's leadership skills include having political rivals and troublesome journalists jailed or killed?
For all of his crudity, Trump can be excruciatingly polite.
More telling are Trump's cabinet picks: first, national security adviser Lt. Gen. Mike Flynn, a flaky conspiracy-theorist who not only gave credence to the delusional "Pizzagate" tale, but has also dined publicly with Putin and done paid gigs on the Kremlin-sponsored "Russia Today" TV network.
Then there's Rex Tillerson, the ExxonMobil CEO who has done billions in business deals with state-dominated Russian oil companies and accepted that country's highest civilian medal from Putin himself.
The Guardian has revealed that "Tillerson was the longtime director of a U.S.-Russian oil firm based in the tax haven of the Bahamas" — perfectly legal, but unusual behavior in a man nominated as secretary of state. Imagine the caterwauling if Secretary of State Hillary Clinton had done something similar.
Also, did you know that Paul Manafort, the Trump campaign director forced to resign last summer after reportedly taking millions from the Russian puppet government in Ukraine, actually lives in Trump Tower? Did he ever really quit stage-managing the campaign? It's worth wondering if, like the omnipresent Trump children, he remains on the president-elect's private payroll.
Add the skeptical noises that Trump has made about NATO, his seeming indifference to Russian military interventions in Ukraine and its role in the ongoing Syrian slaughter, and it becomes hard to imagine anything Putin might want that Trump's unwilling to give him. It's a good bet President Trump will withdraw U.S. support for NATO economic sanctions imposed after Russia's seizure of Crimea — a blow to our European allies and a boost to the faltering Russian economy.
What Trump gets out of his "bromance" with Putin is also perfectly clear. His campaign's response to The Washington Post's revelation that CIA and FBI analysts have concluded that Kremlin operatives meddled in the 2016 presidential election on his behalf was a classic of the Trump method.
"These are the same people that said Saddam Hussein had weapons of mass destruction," the Trump campaign responded. "The election ended a long time ago in one of the biggest Electoral College victories in history. It's now time to move on and 'Make America Great Again.'"
Almost every significant syllable was a barefaced prevarication. Without rehearsing the history of Vice President Cheney's 2003 bullying of CIA analysts during the run up to the Iraq War (which Trump has also lied about opposing), his election win was one of the least decisive in U.S. history. Besides losing the popular vote by 2.86 million, he won fewer electoral votes than Bill Clinton, Barack Obama, Ronald Reagan and many others.
And what exactly do Trump voters think they're getting out of the Russian connection? Most simply don't care. They've basically chosen party over country. They dislike Americans who vote Democratic far more than the Russian dictator, a distant figure of seemingly no significance to their lives. Most are too busy gloating and rationalizing Trump's boasts to worry about the Kremlin's armlock on the White House.
But how much money does the House of Trump owe to Russian banks? If the president-elect gets his way, we'll surely never know.
Writing in New York Review, expatriate Russian journalist Masha Gessen analyzes the two men's deep similarities. "Lying is the message," she explains. "It's not just that both Putin and Trump lie, it is that they lie in the same way and for the same purpose: blatantly, to assert power over truth itself."
She examines Putin's brazen 2014 denial of Russian troops in Ukraine. His lies, Gessen argues, "communicated a single message: Putin's power lies in being able to say what he wants, when he wants, regardless of the facts. He is president of his country and king of reality."
Similarly, millions watched Trump and Clinton bicker about Russian meddling during the 2016 presidential debates. "You're the puppet," he pouted, like a third-grader. Now he insists nobody mentioned the subject until Hillary lost.
Trump too, Gessen emphasizes, "was demonstrating his ability to say whatever he wanted about the election, precisely because he had won it."
No doubt. But Americans aren't Russians, with their long history of serfdom and dictatorship. Nor can Trump have his opponents bumped off or imprisoned. As partisan passions cool, skepticism will reawaken.
And then we'll see what happens.
eugenelyons2@yahoo.com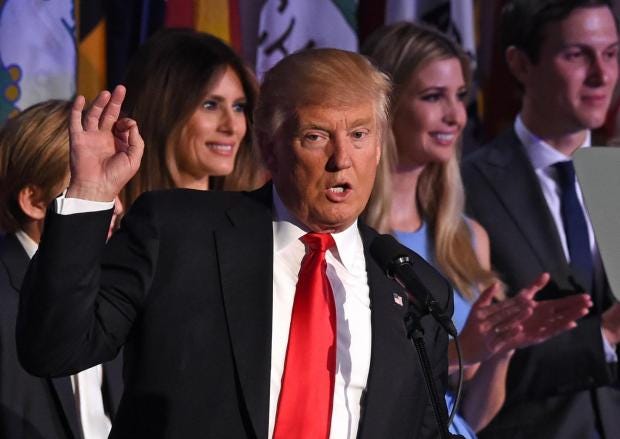 Canadians are inviting the four West Coast US states that voted for Hillary Clinton to secede to their country.
Mocked-up maps of what Canada would look like, if its borders extended from the Arctic down to Mexico, have been widely shared online in the aftermath of Donald Trump's election victory.
A British Columbia reporter has become the latest Canadian to kindly extend an invitation to California, Oregon, Washington and Nevada.
"I'm sure we can work something out if you want to join Canada," tweeted Chad Harris, a reporter from Kamloops.
"To the west coast of the United States, if you want to you can all become Canadaian Provinces, since you voted closer to the experiences we have as Canadian."
Campaigners are already fighting for California's independence and a "Calexit" referendum, initially inspired by Catalonia independence attempts, to be held in 2019.
More than 60 per cent of voters opted for Hillary Clinton in The Golden State – the election's bluest patch.
The Yes California Independence Campaign says: On issues ranging from peace and security to natural resources and the environment, it has become increasingly true that California would be better off as an independent country."
Douglas Cole from Beaverton, Oregon, wrote an ironic open letter on the subject to Canada, asking: "Just please take us. Pretty please?"
The Independent has contacted the office of Prime Minister Justin Trudeau and the Liberal Party of Canada for comment.
Trump said in 2014 that Russian hacking was a 'big problem'
Trump Is Not the Problem
Donald Trump: The Russian Poodle
I invite you to sign up for my free, twice-weekly email newsletter. Please also join me on Facebook and Google+, watch my YouTube videos and follow me on Twitter (@NickKristof).
Follow The New York Times Opinion section on Facebook and Twitter (@NYTOpinion), and sign up for the Opinion Today newsletter.
How a Putin Fan Overseas Pushed Pro-Trump Propaganda to Americans
Trump has been lying about the Russian hack. He just accidentally admitted it himself.
THE MORNING PLUM:
In recent days, Donald Trump has been spinning a new narrative about CIA charges of Russian interference in our election: The administration did not leak the news of this finding until after Trump won, which shows this is just an after-the-fact effort to undercut the significance of his victory over Hillary Clinton. As Trump tweeted Thursday: "If Russia, or some other entity, was hacking, why did the White House wait so long to act? Why did they only complain after Hillary lost?"
This is not some small offhand remark. It represents an effort by Trump — one that is going to continue — to construct an alternative narrative to replace the increasingly substantiated one in which Russia may have in fact tried to interfere in our election to help him, which would obviously carry enormous significance on many levels.
But Friday, Trump send out a new tweet that accidentally reveals that he knows this entire narrative is a lie:
Trump is referring here to news that broke in late October: That a hacked email showed that interim DNC chair Donna Brazile may have leaked a Democratic primary debate question to Clinton's campaign in advance. Brazile publicly blamed this leak on Russian hackers who were out to divide Democrats by feeding the perception among Bernie Sanders supporters that the DNC was putting its thumb on the scales for her. This built on a formal statement that the intelligence community put out earlier in October declaring itself "confident" that Russia was trying to interfere in the elections by hacking into DNC emails.
And so, by referring to this episode, what Trump is inadvertently revealing here is that, yes, the complaint about Russian hacking to hurt Clinton did in fact precede the election, and this was widely and publicly known. Of course, there is ample other evidence that Trump is fully aware of this. The intel community had publicly declared it weeks before the election. Trump had reportedly been privately briefed on it by U.S. officials. Trump was confronted with evidence of the hack at a debate with Clinton that was watched by tens of millions of people. At the debate, he cast doubt on the notion that Russia had hacked the materials to hurt Clinton. And yet, as Mark Murray points out, Trump himself widely referenced the material dug up in the hacks at rallies, where he used that material to — wait for it — try to damage Clinton.
Obama says U.S. will take action against Russia for hacks
Trump's latest efforts are extraordinarily ham-handed. In this new tweet, he thinks he's muddying the waters by suggesting that the hackers tried to help Clinton (as if to say this shows they couldn't have wanted to assist Trump), as part of a broader ongoing effort to build an alternative narrative to the emerging one about possible Russian interference to help him. But he's just succeeded in revealing how preposterous that alternative narrative really is.
Once again, we do not know for sure that Russia interfered. But, should more evidence emerge, Trump's position on this is very likely to grow unsustainable. Confronted with evidence that a foreign power may have tried to swing our election — something that's being widely condemned by Republicans — Trump continues to refuse to take it seriously (even as his own advisers gamely try to pretend he does). Instead, Trump appears to harbor boundless confidence that he can spin any substitute story line he wants, and that, no matter how deeply absurd it is, his supporters will eagerly buy into the alternate reality he's concocted for them.
How long can Trump maintain this posture? It's possible that the intelligence community will leak more evidence of Russian interference in coming days. What's more, there will soon be confirmation hearings for two retired generals Trump has picked for his Cabinet — James Mattis as defense secretary, and John Kelly as head of the department of homeland security. They will be asked about the intelligence community's confidence that Russia did try to swing our election, and what should be done about it. One presumes they will treat the topic with the gravity it deserves. Meanwhile, Trump — and let me remind you, he will soon be doing this as president of the United States — will be dithering around with tweets designed to spin his own reality about what happened that everyone knows is straight out of la-la land, including (presumably) him.
That can't go on for too much longer. Can it?
****************************************************************
* GOP MAY TRY TO REPLACE OBAMACARE IN PIECES: CNN reports that GOP aides have settled on a process that involves repealing big chunks of the ACA through a simple majority "reconciliation" process, followed by replace:
Republican aides are saying there may not be one overarching "replace" bill. One senior Republican aide said the party will look for legislative opportunities to get "pieces" of Obamacare reform through — a process that could drag out for years.
Republicans will tell you that they have "leverage" to force Senate Democrats to support these "pieces" of "replace." But Dems don't have to play along with this.
* GOP REPLACE PLAN WILL LIKELY COVER FEWER PEOPLE: The New York Times reports that the American Medical Association is calling for the GOP replace plan to cover as many people as currently are covered on Obamacare. But:
House Republicans, preparing for a rapid legislative strike on the law next month, emphasize a different measure of success. "Our goal here is to make sure that everybody can buy coverage or find coverage if they choose to," a House leadership aide told journalists on the condition of anonymity.
It's likely, then, that the replace plan will cover far fewer people, and this is how it will be spun.
* VERY LITTLE SUPPORT FOR REPEAL: A new CBS News poll finds that only 25 percent of Americans support repealing Obamacare entirely, while 63 percent say it needs minor changes, and another 9 percent say leave it as it is. Support for repeal is down 10 points since January.
Of course, this doesn't really count, because the public hasn't yet seen the "terrific" replacement Republicans and Trump will put forth, and Americans are gonna love it big league.
* DEMS PLAN BIG FIGHT AGAINST TRUMP NOMINEES: The Associated Press reports that Senate Democrats plan to use the hearings into Trump's nominees to position themselves for the 2018 elections by persuading working-class whites he's not on their side:
To highlight what they say is the hypocrisy of Trump's campaign promise to be a champion for the economically struggling little guy, they'll focus on the nominees' wealth, ties to Wall Street and willingness to privatize Medicare, among other issues. In some cases, they'll seek to drag out the process by demanding more information and ensuring a full airing of potential conflicts of interest.
All those Goldman Sachs and oil and gas executives give Dems a lot to work with, but let's face it, the 2018 map is awful for them.
* CLINTON CAMPAIGN CHAIR RAISES QUESTIONS ABOUT FBI: Clinton campaign chairman John Podesta has written a new op-ed in The Post that asks why the FBI didn't try harder to notify the DNC that it had been hacked:
This is a real escalation — it represents an effort to get the press to shine a brighter light on the FBI's broader conduct throughout this whole election (see: Comey, James).
* YES, TRUMP IS A THREAT TO OUR DEMOCRACY: Two Harvard professors of government publish a must-read today that relies on a political scientist's metric for determining whether a politician is "anti-democratic," and delivers the bad news:
His indicators include a failure to reject violence unambiguously, a readiness to curtail rivals' civil liberties, and the denial of the legitimacy of elected governments. Mr. Trump tests positive. … In the event of a war, a major terrorist attack or large-scale riots or protests — all of which are entirely possible — a president with authoritarian tendencies and institutions that have come unmoored could pose a serious threat to American democracy. … The warning signs are real.
And as I keep shouting at you, congressional Republicans really must be seen as a crucial part of this story.
Pants on Fire! Trump tweet about White House, Russian hacking probe
John Podesta was chairman of Hillary Clinton's presidential campaign.

The more we learn about the Russian plot to sabotage Hillary Clinton's campaign and elect Donald Trump, and the failure of the FBI to adequately respond, the more shocking it gets. The former acting director of the CIA has called the Russian cyberattack "the political equivalent of 9/11." Just as after the real 9/11, we need a robust, independent investigation into what went wrong inside the government and how to better protect our country in the future.
What takes this from baffling to downright infuriating is that at nearly the exact same time that no one at the FBI could be bothered to drive 10 minutes to raise the alarm at DNC headquarters, two agents accompanied by attorneys from the Justice Department were in Denver visiting a tech firm that had helped maintain Clinton's email server.
Seven reactions to CIA assessment of Russia's role in presidential election
This trip was part of what FBI Director James B. Comey described as a "painstaking" investigation of Clinton's emails, "requiring thousands of hours of effort" from dozens of agents who conducted at least 80 interviews and reviewed thousands of pages of documents. Of course, as Comey himself concluded, in the end, there was no case; it was not even a close call.
Comparing the FBI's massive response to the overblown email scandal with the seemingly lackadaisical response to the very real Russian plot to subvert a national election shows that something is deeply broken at the FBI.
Comey justified his handling of the email case by citing "intense public interest." He felt so strongly that he broke long-established precedent and disregarded strong guidance from the Justice Department with his infamous letter just 11 days before the election. Yet he refused to join the rest of the intelligence community in a statement about the Russian cyberattack because he reportedly didn't want to appear "political." And both before and after the election, the FBI has refused to say whether it is investigating Trump's ties to Russia.
Meanwhile, House Republicans who had an insatiable appetite for investigating Clinton have been resistant to probing deeply into Russia's efforts to swing the election to Trump. The media, by gleefully publishing the gossipy fruits of Russian hacks, became what the Times itself calls "a de facto instrument of Russian intelligence."
But the FBI's role is particularly troubling because of its power and responsibility — and because this is part of a trend. The Justice Department's Inspector General issued a damning report this summer about the FBI's failure to prioritize cyberthreats more broadly.
The election is over and the damage is done, but the threat from Russia and other potential aggressors remains urgent and demands a serious and sustained response.
Read more here:
Eric Chenoweth: Americans keep looking away from the election's most alarming story
The Post's View: 'Lessons learned' about Russia
Paul Musgrave: If you're even asking if Russia hacked the election, Russia got what it wanted
White House: Trump 'obviously' knew Russia hacks were benefiting him